Rento - Dice Board Game Online
5.0.9
Excitement When Played Alone or With Friends
For years Monopoly has been a popular board game and has been enjoyed by adults and children alike. Rento is set out in a very different way to it, but a lot of the rules are the same and the processes are very alike. Once you have downloaded the free board game you will be able to start playing. It is a fun game to play and unlike board games where you have to be in the same location as other players, with Rento you can play remotely.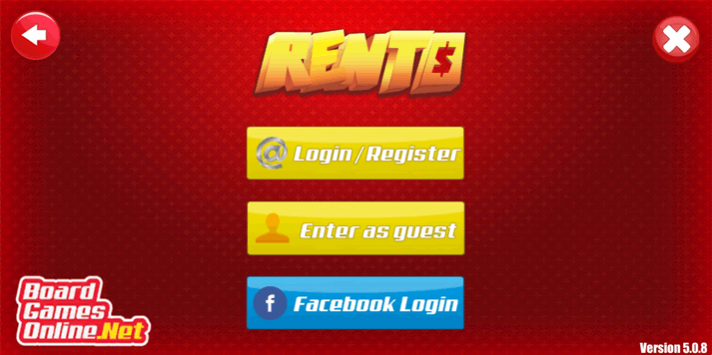 The general idea is to gain land via purchases or trading land, and then build houses on them. Auctions are up for grabs and you can get the chance to roll the wheel of fortune. If you are interested in Russian Roulette then that is involved as well. There are sections at the bottom of the board that allows you to carry out some of these purchases. At the moment there are 17 languages that can be used, so you don't have to struggle with one you are not used to. The cost of properties and transactions are shown in the language that you are using.
There are 4 different ways that you can play. Firstly, there is online – here you will play against other humans and it is live. If there is no one for you to play against then you can go it alone and pit your wits against AI robots. It will be a challenge and you may need to be prepared to lose to a robot. If you have Bluetooth than it is possible to have 4 players enjoying the game at once. Finally, there is Pass N Play – here the game is only downloaded on the one device but is passed around to others so that they can take their turn. At the moment Rento is the only online board game that is truly multiplayer.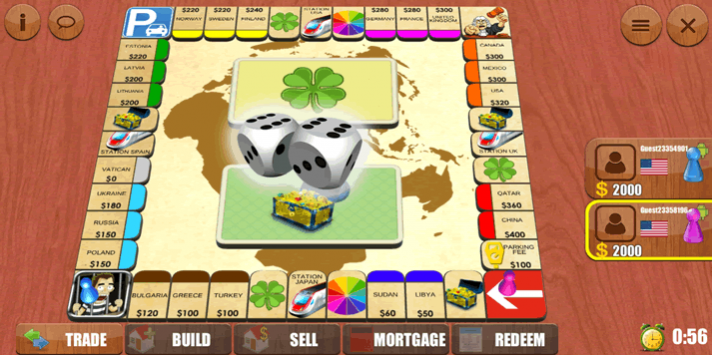 It is recommended that before starting a game, the Wi-Fi is checked. If it is not solid there is the risk that it will crash. Once this happens it will not be possible to pick the game up where you started. Although there is the option to play against robots, it is normally considered to be a game that is meant for between 2 and 6 players. You can access the board game via a number of mediums. Once it has been downloaded you can register and then log in when you play. You can enter as a guest, and you can also use your Facebook account to login.
Coins are earned by completing tasks and achieving levels. While the app is free, it is also possible to buy coins if you feel that you need more than you have. There are 32 achievements – some hard and some easy. As you would imagine, the harder ones will ensure that you receive a high-level XP. XP is experience and you need to get it to carry forward with the game. You will also be able to check a table to see how much experience coins will cost you.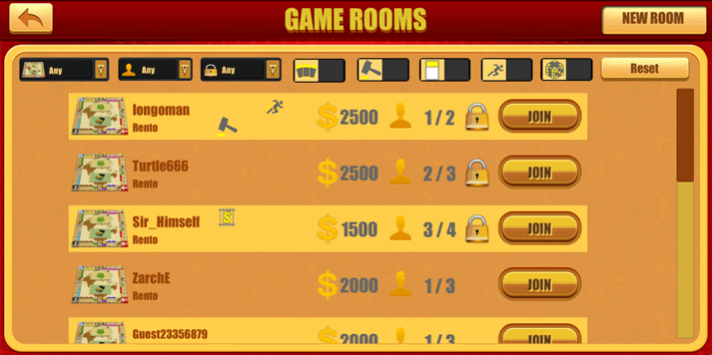 When deciding how to play you can enter games rooms. You just select the one you want to be involved with and click join. Some are locked so you won't have access.
Features
4 ways to play
Tasks that will give coins
Coins will let you buy experience
Wide range of languages
Realistic scenes
Conclusion
If you want to play the board game Rento, you can whenever and wherever you want. The rules are easy to understand and the game is enjoyable. If there is anything that you are unsure of you will be able to click a section and get the information you need.
---
Add a review
Tell us your experience with
Rento - Dice Board Game Online
5.0.9
RELATED PROGRAMS
Our Recommendations
---
---
---
---